1984 Skyway European Tour
---
|






One of the first things we did for Skyway was go on a 3 week European tour. At the time I was completely blown away to be leaving the country. My parents didn't have cars while I was growing up so I barely even left San Francisco. My life was taking the bus or riding my bike where I wanted to go. When we went to Europe I was basically a high-school

dropout who spent all his time riding a BMX bike. Vander had a LOT to do with me ever getting on Skyway and I still think I owe that guy a lot for doing that for me. Skyway pretty much went on Dave's word that they should get Robert Peterson, Damon Frost and myself. Originally, Damon, Dave and Robert were going to go to Europe but Damon had broken his wrists doing GPV so I went in his place. I barely made it. Damon Frost was easily the best all-around rider in the SF area at that time so I felt really bad that he wasn't going. I had actually wrecked my ankle just before going on the trip and hadn't rode for weeks before pulling my bike out in France.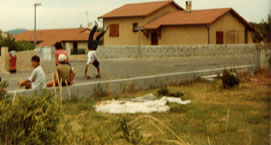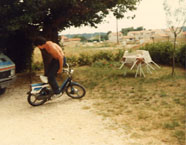 Dave was the biggest clown on the road. People at different towns in France kept calling him "Kloon" (French for clown). He was the kind of guy that was hilarious to be around but would embarrass the hell out of you. He had a way with the ladies too. Some kind of crazy goofball rap but it worked. I don't know how but it worked. One of the funniest things Dave did on tour happened in England as we were all crossing the street just shopping around with a little time off. Well, out of nowhere Dave sprints over to this statue of the queen in the middle of a round-about, scales to the very top and starts beating his chest making the trademark Vander rooster call. Right on cue, this guy driving by yells "You'll get bloody hanged for that" with the thickest English accent. Classic scene and typical Vander.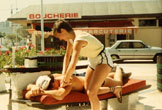 Dave and Robert were sort of edging for the "Team Captain" position although there was no position available. Dave made it clear that Robert was not a "Curb Dog". Skyway actually didn't like that Dave and I had "Curb Dogs" so big on our number plates or that all the European coverage played off the Curb Dogs name so much but we held our ground on that one. Curb Dogs was our roots and we weren't letting that go. We're still Curb Dogs.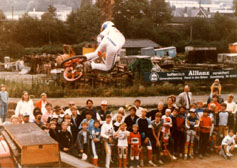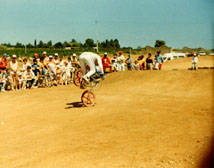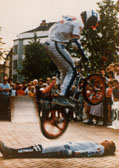 Being on tour was a blast. Although there were times where it was a lot of work or we were tired and cranky, we had a great time. BMX Freestyle was really new and since we were one of the first few US teams to go to Europe and probably the first to a lot of the places we did shows, people didn't know exactly what to expect. Ramps came in all shapes and sizes and we did more than a few shows on dirt or cobblestone. These days I get a kick out of riders whining about a "sketchy parking lot". I'd call ANY parking lot luxury after some of the stuff we rode over there.
---
| |