Memorials
---
|

When Dave passed away there was a ripple through the BMX Freestyle community. The entire sport was suddenly calm in disbelief. Strange things were happening with the boom ending. The demise of the AFA and uniforms among other things. But this was huge. It seemed like the whole sport just stopped for a moment of silence and things fell into perspective. The kind of things where that trick you were working on didn't matter and whatever drama might have been floating around was all of the sudden inconsequential. Everyone looked for ways to express their respects.

Memorials were done in the BMX magazines. This one from Freestylin' included a picture from what was probably Dave's last photo shoot and a wall bombed by local freestyler turned grafitti legend Norman Chuck aka "Vogue". Norman also painted the TOL ramp at Wizard Pubs way back in the day.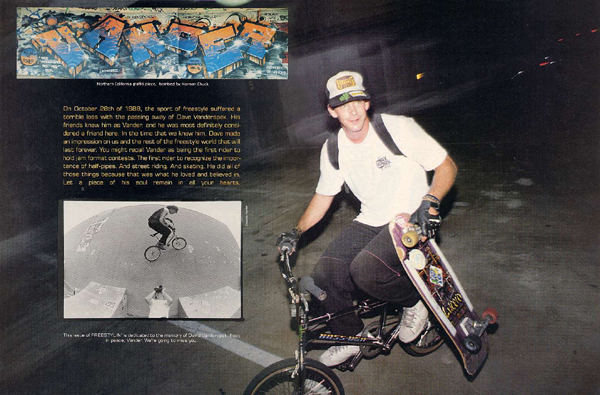 It's appropriate that Dave's pictured here with his bike and skateboard because that was something that set him and his Curb Dogs apart from the very beginning - the incorporation of bikes and skateboards into one scene.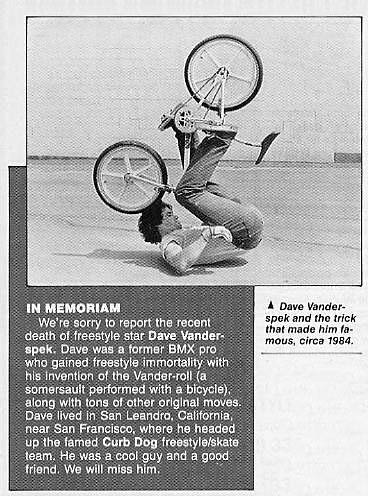 BMX Plus covered Dave's death in their news section.
I found myself compelled to make some memorial stickers and offer them through a letter to Freestylin'. I rationalized that Dave's biggest desire in life was to make something of the Curb Dogs and have a positive effect on the sport that he dedicated himself to. The idea of people all over the world sporting Vander's name seemed appropriate.
I also wanted to make a book of letters for Vander's parents from people all around the world but there were only a few letters. They did appreciate them though.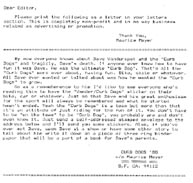 Over 500 people responded to that letter and received the free stickers and Curb Dogs newsletter in return.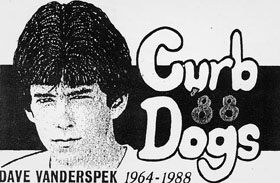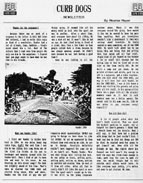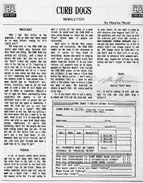 A bunch bought the memorial shirts that came with the second Curb Dogs newsletter.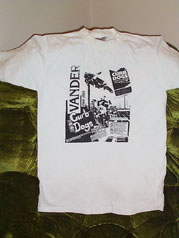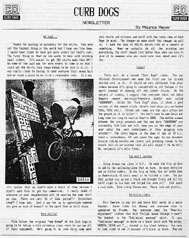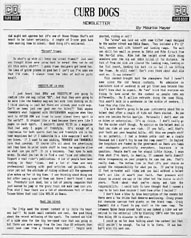 FAT 'zine did a memorial page and offered the sticker. The guys from FAT hail from Holland as did Dave and his parents.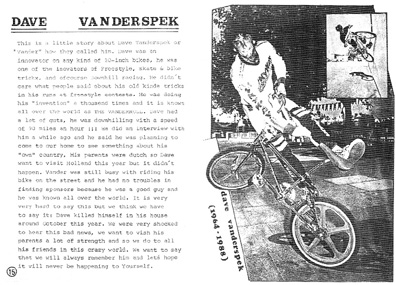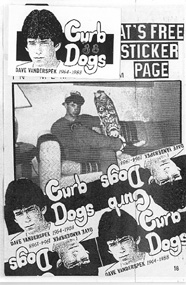 The O-Zone guys dedicated an indoor jam to Vander.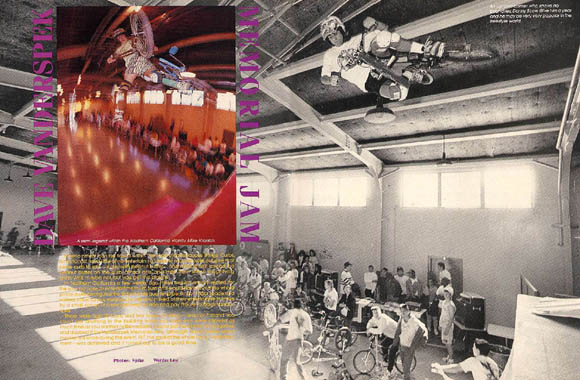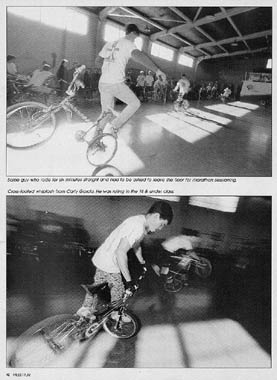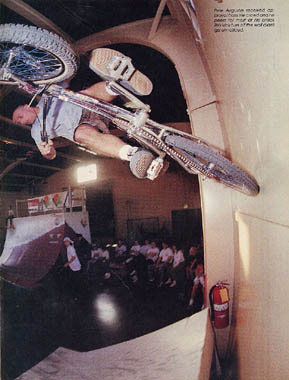 Club Homeboy magazine did this memorial and Dave was not forgotten in Freestylin's 50th issue wrap-up of freestyle history.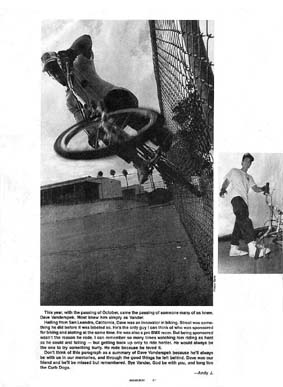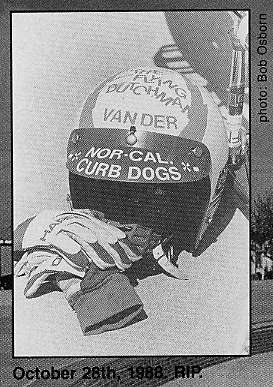 Nearly 20 years later Rob Quinlan paid respects to Vander with this essay as a submission to Ride magazine's "Be Mike Ardelean" contest - which he won.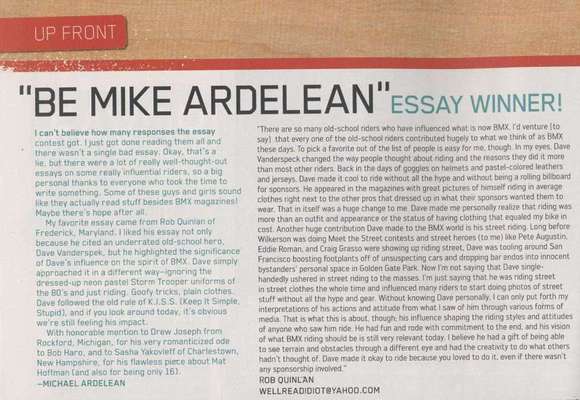 In June of 2006 Timo Lanki of Helsinki Finland finished his Vander memorial Boss Freestyler bike using original parts from the 1980s.
Full story on VBMX
"This is Matt Pingel speaking all the way from Germany. I've been a BMXer all my life and still am. In the 80's we were the "Stoke Bros", basically the German version of the Curb dogs. Vander was a hero to us. Now the bros are spread all over the planet, but recently Frank The Stone and I met again after all those years and went straight to the local bowl for a skate on our old boards and then to my studio to capture 20 years of Curb Doggin' (check Frank's sleeve - in Memory of Dave Vanderspeck, those Jackets are the originals from the 80`s we were wearing in college !!!!)
In the winter of 2009, William Fong completed his 1986 Kuwahara Bravo KT Vander replica bike. William allowed me to spray bomb the black on the bike which was a lot of fun. Read the full story here.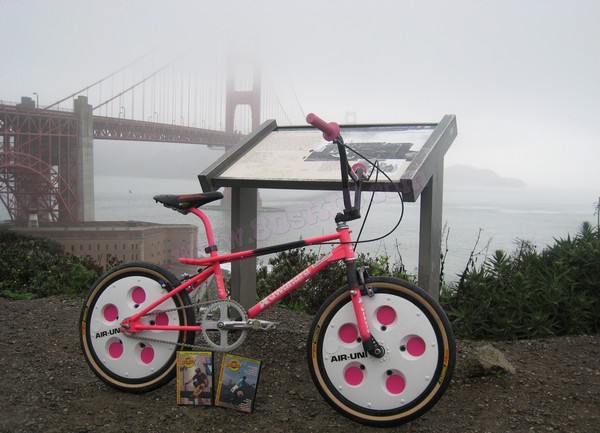 David Childs in the UK put together this excellent replica of Vander's 1984 Street Beat prototype as seen on the 1984 Syway European tour. Perfect details down to the bend in the seatpost!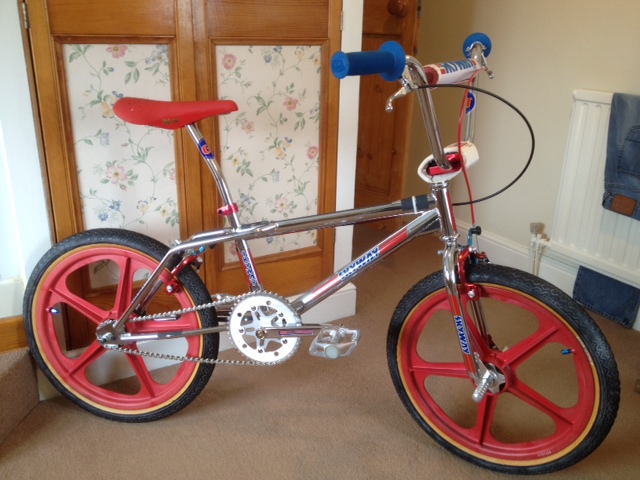 ---
| |