Marketting the Curb Dogs
---
|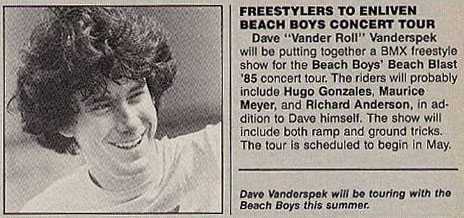 Dave was marketting the Curb Dogs from day one. He immediately saw the potential to do more than get circles going at the park or down at some tourist spot. He knew there was a bigger audience out there and had confidence that the team he had put together could be a top performing group or riders. He worked simultatneously on getting him and his team sponsored. If he wasn't setting up shows or contests he was working some angle like shooting promotional photos of all of usr. These scans are from a contact sheet and a bit blurry but are some of only a few pre-Skyway Curb Dogs photos that I have.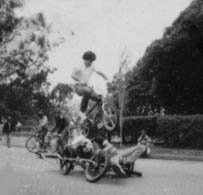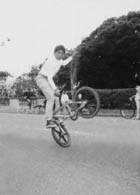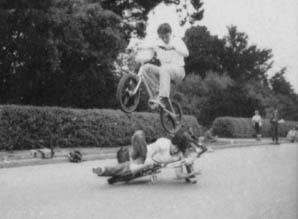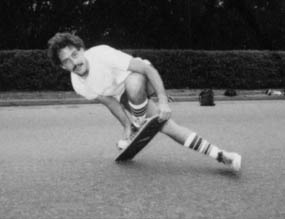 Dave's portfolio boasted of a "10 car jump" that he never did but I have no doubt that he would have if there were enough people watching. Note that at this point, the Curb Dogs was only 6 people. That number grew quite a bit...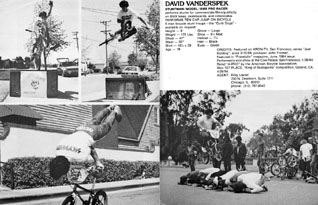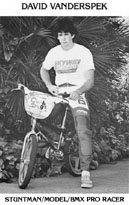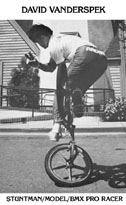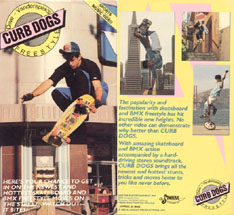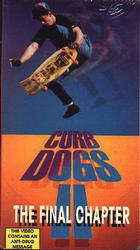 Dave had an agent (King Lauter) and met up with Richard Christiansen who would produce the Curb Dogs video trying to capture the BMX and Skateboard culture of the 80's.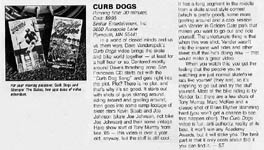 Although there were plenty of more highly produced BMX videos, the Curb Dogs video was chosen by Blockbuster as the only BMX video in their catalog. A second video was made after Dave's death with an anti-drug message.
Both Curb Dogs videos have been re-released on VHS and DVD.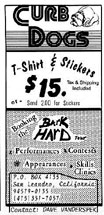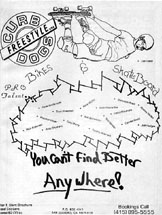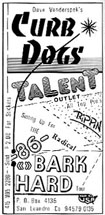 Dave placed a couple adds in Freestylin' with the idea of doing a tour in mind. This add in "Shreddin'" July 1985 shows how the Curb Dogs grew - 17 people at this point... It was a bro thing. We were hiring them so fast we couldn't even spell their names right!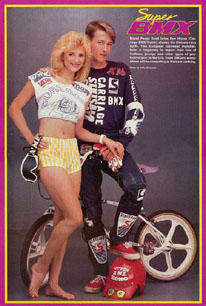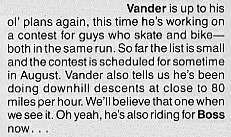 The skate/bike contests never happened. It just didn't make sense since there weren't too many people who did both.




The Boarder Burgers restaurant did open and although it didn't last long it was cool. In addition to the menu selections, skateboards were used to shuttle meals from the kitchen to the wait staff.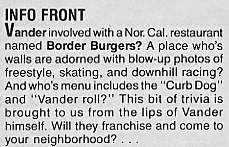 Nice shirt honey... Wear shoes much?




Somehow Dave managed to promote the Curb Dogs to a place in the NORA Cup standings - the peoples' choice awards for BMX. The fact that the Curb Dogs placed fifth among company sponsored teams is pretty significant. Dave had no budget or major adds insuring some amount of coverage. He also made it in the individual rider category 7th place in 1985, 9th in 1986 tying with Brian Blyther. Those "new guys" like Matt Hoffman and Dennis McCoy bumped him out in 1987...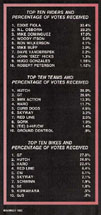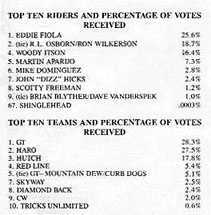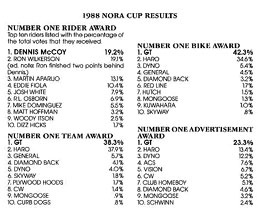 ---
| |