The First Pro BMX Half-Pipe Contests
---
|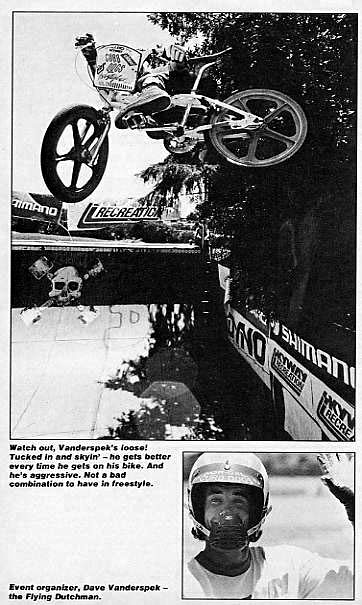 In 1984 Dave had this idea to hold a series of half-pipe contests. At the time all the vert contests were in southern California and anyone from out of town was at a disadvantage trying to adapt to the So-Cal parks. Northern California's parks like Whittier, Campbell and Winchester had dropped out of site long before Pipeline and Del Mar faced the bulldozer. Dave's local buddy and pro ramp skater Joe Lopes had already run the first pro backyard skateboard ramp contest at his house so it was only fitting that the first professional BMX ramp contest should be held there.

So, Dave setup and ran Joe's Ramp Jam and won the expert class.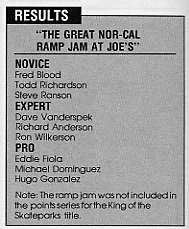 If you read the results from the contest, you'll notice that Ron Wilkerson placed 3rd in expert at this contest. Ron was more of a quarter-pipe rider than a skatepark or half-pipe rider. But, he must have liked the idea because almost two years later, he started the "2-Hip King of Vert" series.
Dave put on another less publicized ramp contest a few months later making "The Nor-Cal Ramp Series" the first professional BMX half-pipe series. This contest was not covered by the magazines but was written up in the AFA Newsletter - by Vander himself. Set it up, competed and wrote the story...
The Joe's II contest Dave put on was almost a bust. It rained that day and there was a lot of doubt that the contest would go on. Hugo Gonzalez went out in the rain doing 4 foot airs on the completely wet ramp in an effort to rally the other riders. It was rad but it didn't really work. But, the weather clearing and the ramp drying did get those guys out for another great jam contest.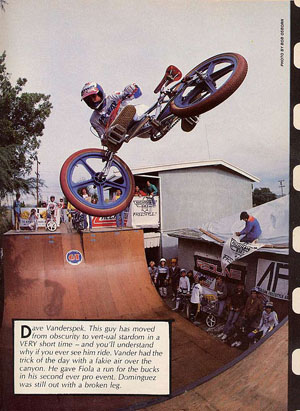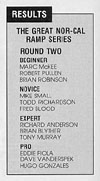 Richard (Rick) Anderson didn't make it to many other contests but if you ever saw him and Blyther together you'd swear they came from the same school - smooth.
Tony Murray and Dave Vanderspek rode coaster brakes at this contest. Nobody rode pegs...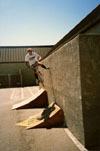 Not many people know it but Dave also ran the first BMX street contest in Northern California. There wasn't a lot of hoopla and I doubt there was much of a prize purse but Eddie Roman was there.
---
| |