1984 Skyway European Tour Coverage
---
|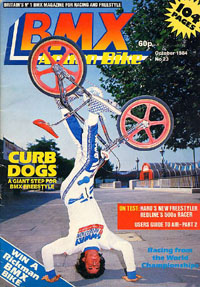 The 1984 European tour was well-received. Skyway set it up so that the factory paid to send the riders over and the local distributors setup the shows and photo shoots. Skyway was a big name in England - probably the biggest for freestyle at the time. Much like Haro was in the US, Skyway had some of the best riders and were routinely winning pro contests. Peter Hawkins - team manager for the UK setup the UK section of the tour - kept us pretty busy over there but it came as a complete surpise that basically 2 photo shoots turned into three subsequent articles in the leading UK BMX magazine - BMX Action Bike. Although Skyway was really happy with the coverage, they weren't exactly ecstatic with the articles portrayal of us as the Curb Dogs rather than the Skyway Freestyle Team. Something about the number plates and the name really stuck with people.




Dave was really psyched getting the cover and the 2-page center spread.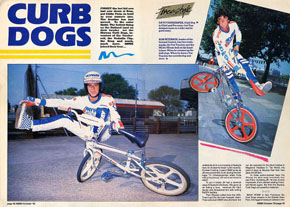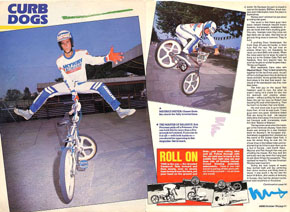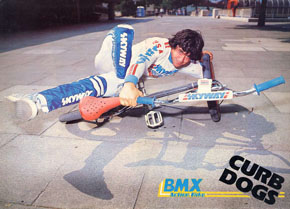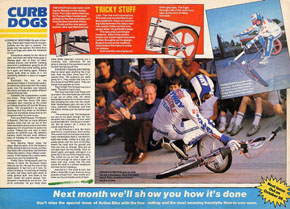 The next issue of BMX Action Bike ran a followup section titled "Curb Dogs" II which focussed on a couple how-tos - the Vanderoll and "The Drog" - a rollback 1 foot X-up 540 and a mutilation of my nickname.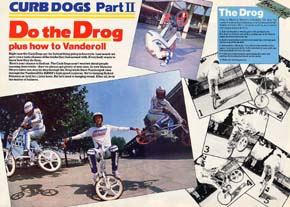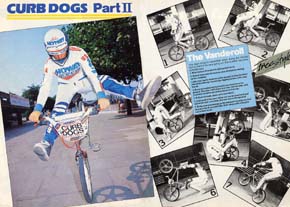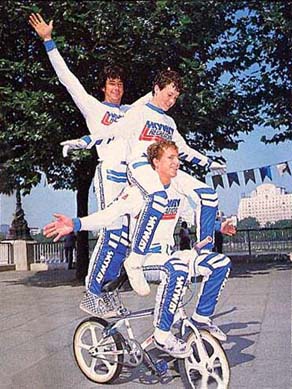 The following issue had an un-precedented third "Curb Dogs" article. Although it focussed on Robert Peterson who was not actually a Curb Dog, it was still titled "Curb Dogs III". We were really surprised by all the coverage over there. Both Eddie Fiola and Mike Dominguez had toured England and only meritted 1 issue of coverage. Same for Ron Wilkerson with Haro's trip to the UK. Either way, the Curb Dogs had somehow made it onto the Freestyle map in Europe.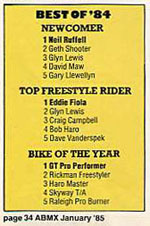 That year Dave won the Best Trick award for the Vanderoll and 5th best rider just behind Bob Haro. I took second best trick for "The Drog".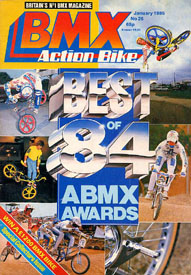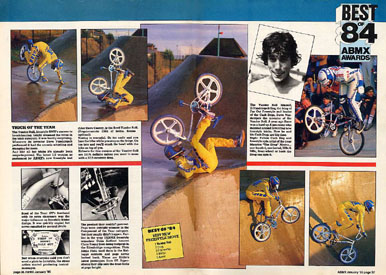 A show at Rad City netted three pages of coverage in the UK magazine "BMX Freestyle" and once again, Dave and the Curb Dogs name was featured.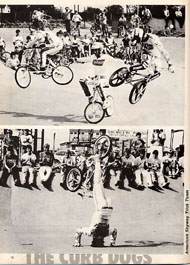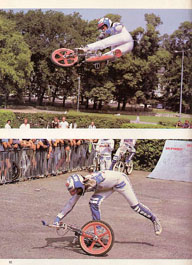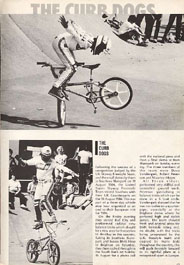 Germany's BMX Speed Magazine reported from a show in Gevelsberg - on dirt...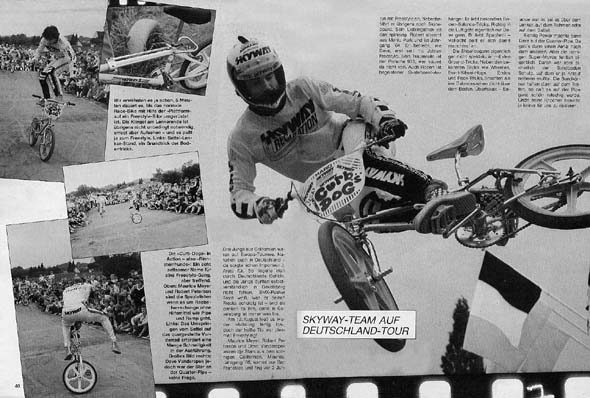 Translation by Marco Frömter:
It only takes five minutes to transform a common race bike into a freestyle bike with the help of the "Platform". The bell at the end of the handlebar is not very necessary but it is fun and fits into freestyling.
Left: Seat-Bars-Stand, a ground trick of flatland riding.
The "Curb Dogs" in action - Curb Dogs means "Rinnsteinhunde". A pretty weird name for a freestyle gang, but it is striking!
Top: Maurice Meyer and Robert Peterson are specialists in controlling their bikes without any aid if doing ramp and pipe.
Left: The Boomerang takes a lot of quickness at the performance.
Big picture: Dave Vanderspek was the actual star in the quarter pipe - without any question.
Three boys from California were on a tour through Europe. Of course in Germany, too - Importer J. Arets took care about this. They hung out all over Germany and shouldn't miss Gevelsberg as well. BMX-Pusher Trost knows what he owes the BMX-Freaks - and they thank him well, because in Gevelsberg there is always something going on.
On August 12th it was time for a "Ready, steady, go". But the hot tip this time was: Freestyling!
Maurice Meyer, Robert Peterson and Dave Vanderspek were the stars from sunny California. Maurice Meyer, born in 66, is a San Francisco native and started two years ago doing freestyle. He also is into skateboarding. His favourite trick is the spinning.
Robert comes from Merlo Park and was born in 64. He is doing freestyle, just like Dave, for 1,5 years only. His dream car is a Porsche 935. Who isn't dreaming about this?
Even Robert is Skateboard fanatic. He especially loves Ground-Balance-Tricks. Dave is actually the one who goes into air. He loves Spaghetti.
The Show didn't start very spectacular with any ground tricks. Next to the well known tricks like wheelies, front wheels hops, endos and rock walks, they did their balance tricks all over the ground. After all balance ruled: at the handlebars, on frames or even on their seats.
Dave started to power up at the quarter pipe - one areal after the other. After all the real super moves were missing. That was probably because of the ground full of sand. The sand always stuck into the tyres and made ramp riding even dangerous. It's really not worth to risk their bones to entertain us!
France's Bicross magazine reported: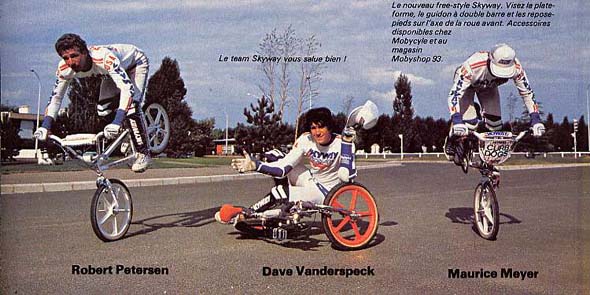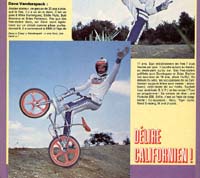 Translation:
A former skater, this 20 year old has attacked it for the last year and half. Some friends of his are Mike Dominquez, Eddie Fiola, Bob Medrano and Brian Patterson. Not just freestylers because Dave also races A-pro. He began riding at age 11. Dave practices freestyle three hours per day and is equally good riding banks, skateparks and on the ground. his favorite freestylers are Dominguez and Brian Blyther (16 years old, rides for Huffy). Besides riding bicycles the hobbies of this hilarious Californian, are vast and include skateboarding, rollerskating, grass skiing, football (not American please) and chicks! his favorite car is a Porsche 935. Lastly, he is a fan of spaghetti. Co-sponsors: Haro, Tiger Cycle, R&S Racing, M&J Cycle.
---
| |