Golden Gate Park
---
|

1983. 2 years after MTV was launched. Video games still in the Pac Man stage. Barely anyone with a real computer or has even heard of the internet for that matter. Roller Blades and Mountain Bikes are not yet part of the general consumer's garage of forgotten sports equipment and a video camera is a rare site.

BMX has been around for a number of years and racing is in full bloom with national/international events and pros winning huge cash purses and cars. BMX freestyle is in its infancy. The American Freestyle Association (AFA) has just started running BMX freestyle contests in skateparks with just a handfull of riders and sponsors mustering purses only in the hundreds of dollars. Bob Haro has the only frameset specifically for BMX Freestye use. Nobody is riding pegs except maybe to pitch out into garbage cans. Wizard Publications - the publishers of BMX Action Magazine - is contemplating a quarterly freestyle-only magazine which will be the first of its kind.

Although BMX freestyle is still somewhat of a sideshow to BMX racing, it is clear that it is gaining a following. Although, I don't think many people have actually realized what is going on out there in a lot of places. Places where there are no advertisements or memberships. Places where people just went and hungout with their friends and rode their bikes. Places like Golden Gate Park in San Francisco, California.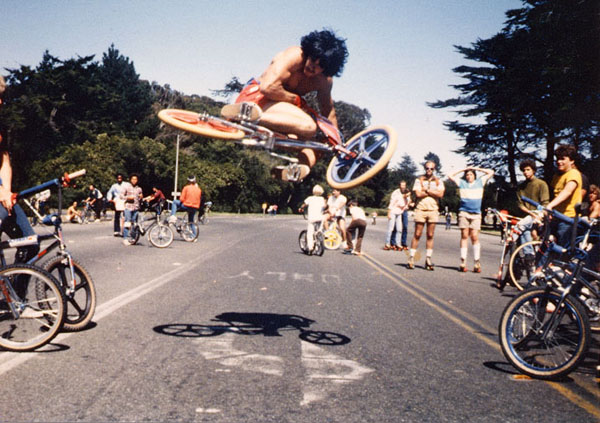 For a number of years Golden Gate Park has been closed off to automobile traffic on Sundays for use by cyclists and roller skaters. Skateboarders soon adopt it as a place to practice freestyle skating. Not long after that, BMX riders start to get in on the act. My brother who skates freestyle - and eventually turns pro riding for Santa Cruz - tells me how friends of ours are going out there each Sunday. My good friend Tommy Guerrero also happens to live a block from the park so I borrow a Webco with coaster-brake tuff wheels and head out there. BMX in Golden Gate park is nothing new since we've had jumps out there in various spots for years. But, going to the center and hanging out in a flat area is something different. We try different tricks on our bikes seeing what could be done. There's always a bit of folk lore and legend floating around about some guy who can bunny-hop some huge obstacle. Or guys like Damon Frost who can spin rear wheel 900's off a roll-back or this other guy "Vander" who could do a sommersault...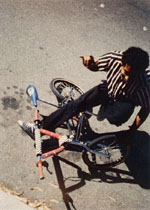 When I met Dave there were so few BMX riders that anyone with a BMX bike was an instant bro. I forget exacty what we did that day but a typical day of freestyling at Golden Gate Park in the early days involved getting some circles going at "the bridge" or "center", riding some ledges and stuff, hitting some dirt jumps then riding the city. Vander was a good dirt jumper for the time but everyone was really blown away that he could hit pancake flat tabletop bunny hops from a near standstill. The Vanderoll was a cool thing too but the flattie bunny-hops were bad-ass. It's amazing that they never caught that in the magazines. For him it was an old trick by then. The photos I have of this are still some of my favorite freestyle photos ever. Something about the flat tabletop on the ground that just has dirt, street and flatland all mixed into one. And, since I've never seen anyone else do this, it just reminds me that Vander had real talent on a bike.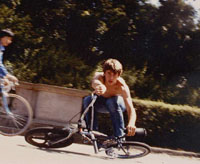 Dave wasn't a bad skater either. Not really a great one or anything but he could do some stuff - more than most BMXers at the time for sure. The really great thing though was that since he was "part skater" he and I had the exact same ideas about BMX and skating being totally related and that we should be riding the same places and doing shows together. And that BMX freestylers shouldn't have to wear leathers and all that motorcycle looking stuff. At the time we were really trying to get our own identity for freestyle away from racing.




---
| |